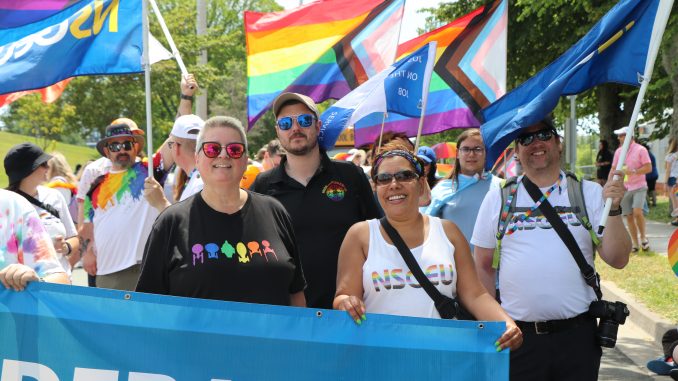 Human Rights Committee Chair Cynthia Black will be walking in the Halifax Pride Parade and invites all lodge members to join her! For more details, Cynthia can be reached by email at cblack@nsgeu.ca.
We are proud to join the global celebration of Pride Month, a time when we come together to honour the diversity, resilience, and achievements of the 2SLGBTQ+ community. As a union committed to equality, inclusivity, and social justice, the IAM recognises the importance of supporting and advocating for the rights and well-being of our 2SLGBTQ+ members and allies.
Pride Month is a significant reminder of the progress we have made in advancing 2SLGBTQ+ rights, but it also serves as a call to action to continue the fight for full equality. While we have achieved important milestones, we must remain vigilant in challenging discrimination, bias, and prejudice that persist in our workplaces, communities, and society at large.
During Pride Month, we encourage everyone to educate themselves about the struggles and triumphs of the 2SLGBTQ+ community, to listen to and amplify 2SLGBTQ+ voices, and to reflect on the ways in which we can actively promote diversity and inclusion within our union and beyond. By fostering an environment of acceptance and respect, we contribute to a stronger and more united labour movement. The courage and resilience of 2SLGBTQ+ activists, advocates, and trailblazers inspire us to continue the work of achieving equality and justice for all.
As we celebrate Pride Month, let us reaffirm our commitment to supporting our 2SLGBTQ+ members and to creating workplaces that are free from discrimination and prejudice. Let us strive for a society where everyone can live their lives authentically and without fear. Together, we can build a world where love, acceptance, and diversity are celebrated every day.