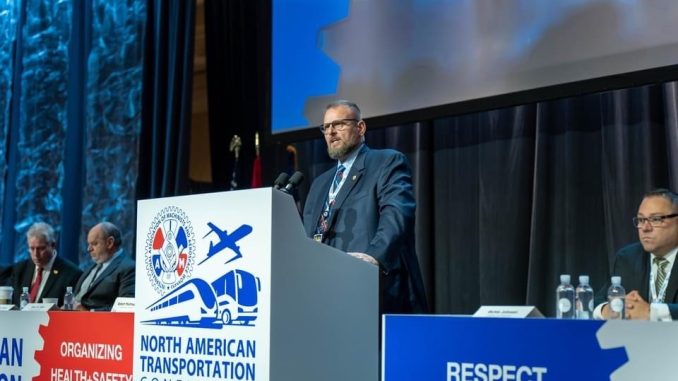 The 2023 IAM North American Transportation Conference in Las Vegas began on Monday, April 3. The conference includes approximately 1,000 delegates of the IAM Air Transport Territory, IAM Canadian Territory and IAM Rail Division.
Speakers at the conference highlighted bargaining victories in both air transport and rail sectors, ongoing organizing campaigns such as Delta Ramp Workers, legislative wins and important political issues faced by IAM transportation members.
IAM Air Transport Territory General Vice President Richie Johnsen opened up the conference discussing the Air Transport Territory successes and lessons learned of the last few years, including great contracts with United, Southwest, Hawaiian, Alaska, and others.
Johnsen also talked about the need for our union's need to evolve and continue to engage with members to understand them better
"We build off of each other, we all grow of each other and we have to lift each other up," said Johnsen.
WATCH: Johnsen's highlights here.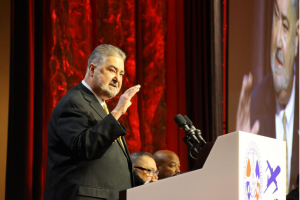 IAM International President Robert Martinez delivered passionate remarks on the IAM's most recent achievements across North America, the current climate of labor and the union, and the measures the IAM is taking to advance in the future.
"While we look toward the generations to come, we must also take a look at the progress we've made," said Martinez. "Despite all the challenges that have come before us, we truly are stronger than ever."
WATCH: Martinez's highlights here.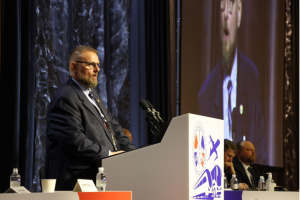 IAM Canadian Territory General Vice President David Chartrand provided eloquent remarks and provided updates on the current climate of IAM-represented industries in Canada.
He also emphasized the need to sustain solidarity from within to build strength against anti-union and anti-worker tactics and detractors.
"Together, let's put the 'fight' back in the Fighting Machinists," said Chartrand.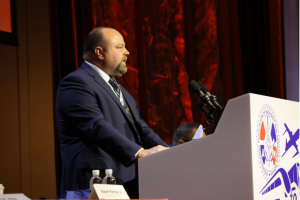 Josh Hartford, IAM Special Assistant to the International President for the Rail Division, provided an overview of the newly created IAM Rail Division. He spoke about how the IAM Rail Division continues to provide many benefits for railroad members giving them more autonomy in deciding their direction and fate within the IAM.
"We must keep our foot on the gas. Rail labor is in a very unique position. One we haven't seen in decades," said Hartford. "Politicians, shippers and the media are all looking at us. Finally listening to what we have been saying for years."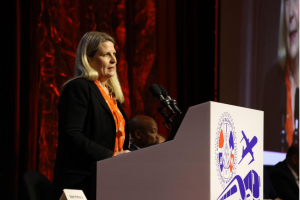 The 2023 IAM North American Transportation Conference also included an address by AFL-CIO President Liz Shuler, who spoke about the vast opportunities to strengthen the labor movement given the current support for unions. She also spoke about the importance of grassroots organizing, embracing emerging technologies and measures to put unions at the forefront to rebuild America.
WATCH: Shuler's highlights here.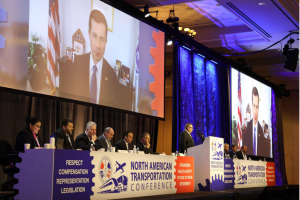 The first day also included a live Q&A session with U.S. Transportation Secretary Pete Butiggieg, who joined via live video for a conversation on issues that are important to the IAM, such as paid sick time for railroad workers, AFA's reauthorization bill, workers' right to organize and workers' safety.
`
`
The first day of the conference also had a diverse list of speakers, including:
IAM Western Territory General Vice President Gary R. Allen
IAM Eastern Territory General Vice President David Sullivan
IAM Resident-General Vice President Brian Bryant
IAM Air Transport Territory Chief of Staff Edison Fraser
IAM Air Transport Territory Airline Coordinator Thomas Regan
IAM National Political and Legislative Director Hasan Solomon
IAM Assistant Secretary to the General Secretary-Treasurer Paul Kendall