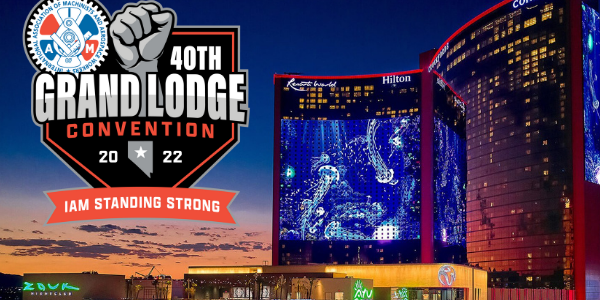 "If you had any doubt about what this union is about, I hope you go home knowing that the IAM is here for you. The IAM is here for your family, and the IAM is here for your community," said IAM International President Robert Martinez Jr. in his closing remarks to the 40th IAM Grand Lodge Convention.
Martinez thanked the staff and members for all of their hard work in making the Convention possible. He recapped all that was achieved at the Convention and all that the Machinists Union does in communities, on Capitol Hill, and for the membership every day.
"Yes, we negotiate contracts that allow our members to live the lives they deserve. Yes, we fight for legislation that benefits our members. Yes, we bring justice on the job and service to the community all across the continent," said Martinez. "We do all of these things and more and we do it better than any other union in North America!"
The delegation gave Martinez a standing ovation for his leadership through Convention and each and every day as the bold and respected leader of the Fighting Machinists.
"The theme of our Convention has been I-A-M Standing Strong," said Martinez. "We STOOD STRONG through the pandemic. We STOOD STRONG through attacks on our union. We STOOD STRONG because of all of you. And we STOOD STRONG this week to make historic changes to our union. This is what union democracy looks like, Brothers and Sisters."
Martinez expressed his deep pride and gratitude to the membership for their solidarity and participation in voting on resolutions and amendments that will guide the union through the next two years. He brought down the gavel once more to close the largest meeting the union holds every 4 years.
"Are we ready to STAND STRONG today, tomorrow, and forever?!" said Martinez. "I declare this 40th Quadrennial Grand Lodge Convention adjourned!"
For a complete list of updates and videos from convention, go to https://convention.goiam.org/updates/