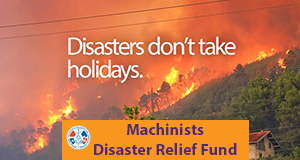 As you know, Hurricane Fiona left many Canadians in eastern Canada devastated. Thousands have lost their homes and, some, their livelihoods. Many tens of thousands have no electricity and it may be days or weeks before it can be restored.
The IAM stands with the people of Atlantic Canada and Eastern Quebec in the aftermath of Hurricane Fiona. You can help!
The federal government has established a donation-matching program with the Canadian Red Cross to support those impacted by the storm and will match donations Canadians and corporations make for the next 30 days with the possibility of extension.
Donations to the Hurricane Fiona in Canada Appeal will support the range of emergency services the Red Cross is delivering to those in need including interim housing, clothing, food, and other essential supplies.
Canadians wishing to make a financial donation to help those impacted by Hurricane Fiona can do so online at www.redcross.ca, by calling 1-800-418-1111, by texting FIONA to 20222 to make a $10 donation.
For members; we also have the IAM's Disaster Relief program. The IAM program information Guide is available here
Let's show we care. Let's donate to help rebuild lives.