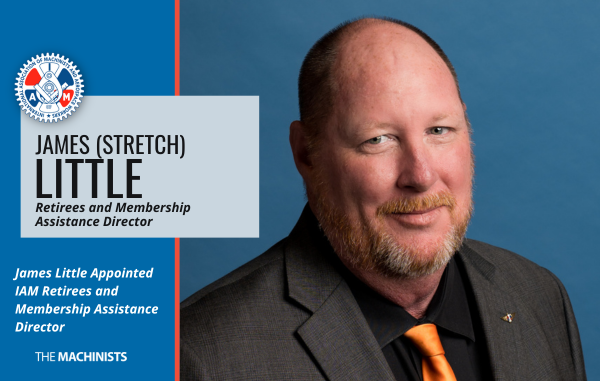 James Little Appointed IAM Retirees and Membership Assistance Director – IAMAW (goiam.org)
IAM International President Robert Martinez Jr. has appointed James "Stretch" Little, a 21-year member who has served on the Southern Territory staff since 2014, as Director of the IAM's Retirees and Membership Assistance Department. The appointment is effective Oct. 1, 2023.
Little will lead an IAM department charged with providing IAM members with world-class, one-of-a-kind benefits, such as the IAM EAP Program, Addiction Services Program, Veterans Assistance Program, Disaster Relief Program, Retirees Program and more.
"Brother Little knows the difference that our membership assistance programs make in the lives of our members," said Martinez. "We look forward to continuing to build on these groundbreaking programs that truly make the IAM a leader in the entire labor movement."
Little joined IAM Local 776A while working on the F-16, F-22 and F-35 Joint Strike Fighter programs at Lockheed Martin in Fort Worth, Texas. He held positions of Shop Steward, President of Shop Stewards and served on the Negotiating Committee.
Little also served as a delegate to the Texas State Council of Machinists and was active on fundraising committees. Stretch served as the Educator for the IAM Southern Territory from October 2014 until May 2016, when he was promoted to Southern Territory Special Representative, and then Grand Lodge Representative. He has handled NLRB duties within the Territory and focused on organizing.
"I couldn't be more excited to lead our Retiree and Membership Assistance Department into the future," said Little. "Together with the talented professionals and members who have made these programs what they are today, we are going to continue to make life-changing benefits available and accessible to members of our great union."