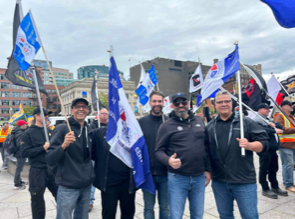 Hundreds of demonstrators rallied yesterday at Parliament Hill in Ottawa to press for the adoption of anti-scab legislation. The IAM was there, and our message was heard loud and clear.
Even though Quebec has had anti-scab legislation for a long time, we have units under federal jurisdiction that cannot apply this legislation. The absence of such legislation only creates chaos in the event of a dispute and is disastrous in the event of a strike.
The use of scabs prevents us from negotiating fairly.
Last year the federal government undertook to introduce legislation banning the use of scabs during strikes or lockouts. Now is the time to act!
Alexandre Boulerice of the New Democratic Party is once again supporting us in our fight with the government.
(in the photo with Alexandre Boulerice – Paul Hicks, Michel Richer, Nick Sifakis, Nasr Kairouz and Vincent Constantineau) not in the photo Chantal Bordeleau.