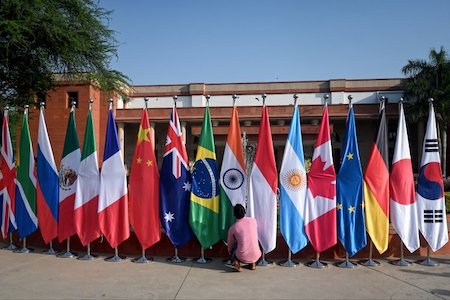 "The Labour 20 – L20 – represents the interests of workers at the G20 level. It unites trade unions from G20 countries and Global Unions and is convened by the International Trade Union Confederation (ITUC) and Trade Union Advisory Committee (TUAC) to the OECD.
Since the outbreak of the financial crisis in 2008, the L20 engages around the G20 inter-governmental process to ensure inclusive and constructive dialogue on 'Jobs and Growth' as one of the official outreach groups together with the Business 20 (B20) and other outreach groups. Read more on the G20/L20 2008-2018.
"The L20 conveys key messages of the global labour movement at the Employment Working Group and Sherpa meetings, Labour and Finance Ministers meetings and G20 Summits. Joint consultations of social partners with Leaders as well as Labour Ministers are an integral part of the G20 process.
"Members of the L20 formulate key messages in a broad consultative process and confirm policy goals at the L20 Summit for each G20 presidency."