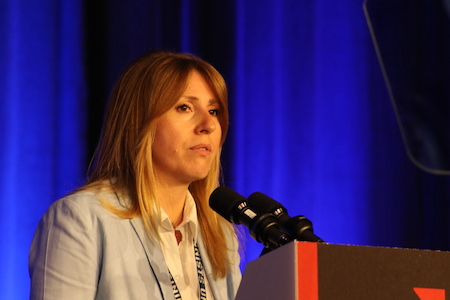 23 August, 2023 – Ivana Saula, IAM Canada's Director of Research and Women and Human Rights presented her years of research on artificial intelligence (AI) to the IAM Unity and Growth Conference today. She added her ongoing monitoring of developments in AI to bring up-to-the-minute news to organisers at the conference.
Saula shed light on the impact of #AI on unions and the need for a clear framework that protects workers' rights and their jobs and illustrated it on how and what corporations are using AI to either avoid unions, or how to exploit weaknesses they may have.
Starting with the basics, Saula led the conference through challenges to union organizing, new work arrangements and new technologies, as well as the impact of new technology.
Remote work, hybrid work and gig work (where workers have no legal status as workers) are challenges to unions trying to engage in organising.
Artificial Intelligence presents a unique challenge as data from the "new" ways of working allows employers to collect a vast amount of information on the workers they use. She also pointed out the limits AI places on collective action by workers seeking to join a union through the use of CCTV camera/webcam, laptops or tablets, mobile phones, portable fitness or location trackers or health monitors.
The monitoring can take place through tracking of both location and body movements, monitoring of keyboard activity, tone of voice, expressions, duration of time at work and/or time taken to complete tasks. And this can happen when on or off the clock!
AI is also being used to predict the probability of organising drives in a particular geographical area by mapping other data, such as the number of successful certifications, how and where unions spend money and the success rate of collective agreements in certain areas.
Amazon used these techniques when trying to avoid unionisation efforts at its Whole Foods brand.
Saula ended her presentation on a positive note by mentioning the WeClock app, which tracks information such as work done outside regular work hours i.e., unpaid work.
"Overall, in studies measuring the social utility of organizing and union density, life satisfaction is directly related to the level of unionization in a country," said Saula. "Union members report higher life satisfaction than non-union members and in countries with unions, there is more equity, fairness and justice- all key elements to happiness and satisfaction."
In ending her presentation, Saula said the best way to continue with the great work unions do is to "Educate, Agitate, Organise". Delegates energetically repeated the three words after her.
#IAMUnity #IAMAW