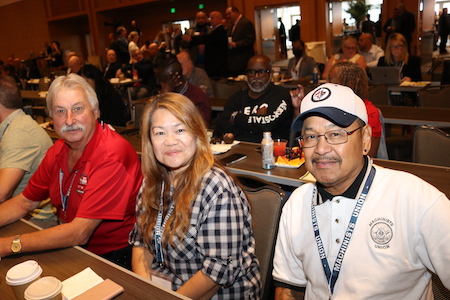 Despite high winds, rain, hurricane warnings, delayed flights and an overall concern about bad weather, the IAM's first-ever Unity and Growth had a successful launch on Monday, 21 August in San Diego, CA.
Concerns about Hurricane Hilary came to very little even though many delegates from all over North America were delayed in getting to the host city. Everyone eventually got there and the organising conference began in earnest. The theme, "Building Our Future Sector by Sector" takes a systematic and strategic approach to welcoming new members into the labour movement and into the IAM.
The 2023 IAM Unity and Growth (U&G) Conference will train, educate and inspire IAM officers, staff, activists, and other leaders to organise new members in all sectors and continue to embrace and strengthen the diversity of our union.
IAM Headquarters General Vice-President Brian Bryant welcomed delegates to beautiful San Diego. "To GROW we must be UNITED. The challenges are far too great and the stakes are far too high for any of us to sit on the sidelines. This is our moment, Brothers and Sisters."
GVP Gary Allen of the Western Territory, where the conference is being held, said, "We have a duty to the legacy we have been handed by those who came before us. We have a duty to continue to fight for justice on the job and service the community for another 25 years and beyond." GVP Allen wanted delegates to "get angry" when others are being treated unjustly and then turn the anger into changing the world.
Lorena Gonzalez, former California State Assembly representative then took the stage and spoke to participants from the heart. Gonzalez, who has authored numerous pieces of progressive legislation for working people and labour, thanked the IAM for being ready and willing to accept any workers who wanted to join a union. Her frank assessment of what needs to be done to change laws to help workers was welcomed with enthusiasm by all present.
Co-Founder of The Purpose Institute, Haley Rushing, also spoke to the conference and led them through the research and findings of the Institute which has been hired by the IAM to plot the way forward. "More than ever," she said, "working people want to join unions, but lack confidence in the institutions." She felt much of their fears came from a lack of feeling secure about their futures.
IAM Director of Organising, Vinny Addeo then lead a panel discussion with participants from various campaigns and various sectors, including healthcare, public sector and air transport.
Participants then spent the rest of the Day One in sector-specific workshops, which will continue for two more days. A reception for all delegates took place in the evening and allowed all to socialise and reconnect with each other.
David Chartrand, IAM Canadian General Vice-President said this of the conference, "We need to get together often and share our stories – both victories and where we fell short. Exchanging strategies can only help us further along the path we need to go in order to make significant changes in the world around us. I look forward to the findings and reports leading out of the workshops."
Click for photos of Day One of the U&G Conference.