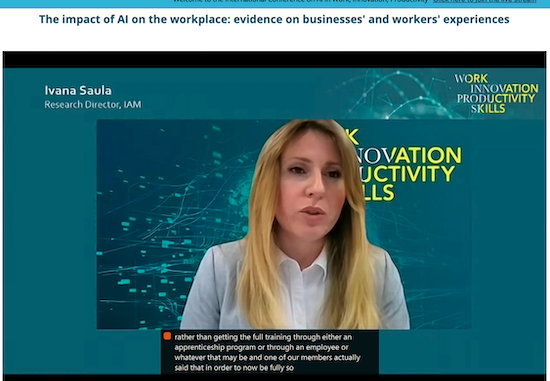 Artificial intelligence is constantly changing the way we learn, think, work, and act. Given rapid advancements in AI, the IAM embarked on a study of the impact of new technologies on our member's work. We've used this information to raise our members' and the public's awareness, but perhaps most importantly, we're ensuring the findings are influencing legislation and policy development.
The capacity of AI technologies continues to be augmented by improvements in computer power and data access, which also spur innovation in goods, services, and supply chains, leading to higher productivity and cheaper prices.
The Organisation for Economic Co-Operation and development (OECD) is hosting an international conference covering these and many other topics in the field and the IAM has played a key role.
Leading experts from the technical, policy, business, academic, and civil society communities were featured at the OECD 2023 International Conference on AI in Work, Innovation, Productivity, and Skills to discuss perspectives on the adoption of AI in firms and the workplace, the ethics of its use, and implications on skills, business dynamics, and productivity.
The IAM's Ivana Saula made a virtual presentation at the 2023 edition of the International Conference on AI in Work, Innovation, Productivity and Skills which takes place from 27-30 March. In her comments, based on the report Charting Changing: Workers' Voices in an Automated World, she outlined some of the findings of her research and the recommendations contained in the report. She also brought up key research areas overlooked by the OECD, such as workers' experiences across multiple sectors.
The IAM is currently working on a national advocacy effort aimed at influencing provincial and federal policy on surveillance and data gathering. Our recommendations and efforts are entirely based on our study on artificial intelligence and automation in many industries across Canada, with a special focus on issues that directly affect working conditions.