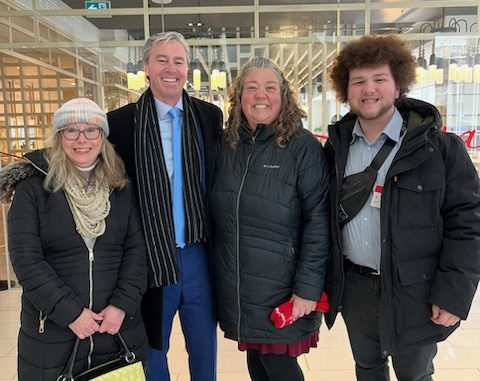 More than 400 trade unionists gathered in Ottawa to lobby our elected representatives and senators for change to laws in Canada. The lobby was organised by the Canadian Labour Congress (CLC) and had some very specific topics. All topics had recommendations which were presented to the parliamentarians.
The IAM, once again, made up the largest contingent of those participating in the lobby this year. We had 74 activists, first-time lobbyists and veterans, all partnering with those from other unions to make urgent pleas to MPs and Senators.
Investing in the Care Economy: which covered many aspects including early learning and childcare, expanding public health care, addressing the health worker shortage, universal public pharmacare, public long-term care, and improving and expanding access to mental health and substance abuse health care.
Jobs in a sustainable economy: we discussed keeping Canada's promises on the environment, standards for job quality, ensuring investments for creating jobs, solid training programs, commitment to workers being involved in decision-making, creating the right organisations to help the work and making sure we consult and engage the affected stakeholders.
Anti-Scab legislation: in this segment, workers told legislators about the severe problems of pitting worker against worker, why we need such legislation, the financial and emotional cost of being on strike/being locked out as well as dispelling the many myths around implementing anti-scab legislation.
Bill C-228 to prioritise pensioners and pension plan members: due to this Bill being adopted unanimously in the House of Commons, it rests with the Senate to pass it, after which it would become law. MPs and Senators were well aware of this legislation and appear prepared for it to pass any final obstacles. It remains to be seen whether this happens. You can rest assured the IAM and the Canadian Labour movement is watching this closely. We must avoid the kind of trauma experienced by workers after Sears and many other companies closed their doors and lost their pensions. Never again!
Most of the attendees also participated in a rally for public health care on Parliament Hill in the afternoon, as well as attending receptions held for them by Canada's New Democrats and the Canadian Labour Congress.
SEE ALL THE PHOTOS ON OUR FLICKR ALBUM