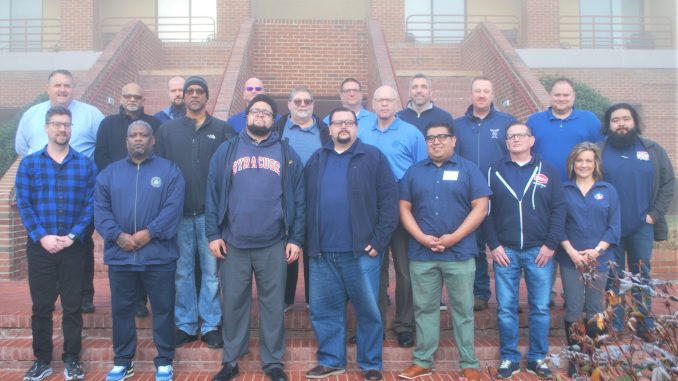 A group of 19 IAM staff members from every territory and multiple districts attended an impactful three-day train-the-trainer course of the Be More Than a Bystander program, conducted by the Canadian group Ending Violence Association of BC in partnership with the BC Lions and BC Centre for Women in the Trades at the William W. Winpisinger Education and Technology Center.
The Be More Than a Bystander program is designed to inform participants about how to recognize workplace harassment and violence, specifically against women and the LGBTQ+ community, and how to appropriately intervene to help someone.
"The course is about teaching men how to be better brothers to our sisters in the labor movement, pushing back against gender-based violence and harassment, specifically in the workplace, and how to intervene meaningfully," said IAM Eastern Territory Special Representative Andrew Hounshell, who attended the training and will now teach the course to IAM staff and members.
The IAM is the first labor group in the United States to be trained in the Be More Than a Bystander program.
"It was very impressive," said Hounshell. "I'm looking forward to going out and sharing the information that we learned to help improve our organization."
The objective of the program is to help men understand the impact of gendered violence in the workplace and the role they can have in speaking up.
"It was an honor for me to observe the first Be More Than a Bystander Program," said IAM Women's and Human Rights Director Julie Frietchen. "I found it informative and think that we will be able to use this material to make our union even more inclusive and stronger than ever."
"'Justice on the job and service to the community' is the Machinists' motto," said Frietchen. "Part of fulfilling the commitment to our motto is to be a better ally to all of our members. I am excited for the opportunity we have."