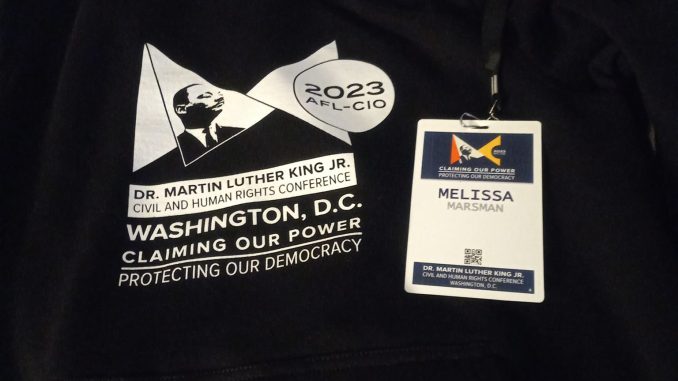 IAM members from across the country gathered in Washington, DC, for the AFL-CIO's Martin Luther King Jr. Civil and Human Rights Conference to listen and learn about critical issues affecting the labor movement and minorities.
The conference workshops and plenary sessions focused on the labor movement's key priorities: youth organizing, civil rights, racial and economic justice, and many other topics that affect working families and unions.
Hundreds of union members, including Machinists, also honored Dr. King's legacy by performing community service projects throughout the Washington DC Metro Area.
Some of the community service projects included letter writing for the Armed Services retirement home, meal preparations for families in need and more.
"MLK Day is also recognized as a National Day of Service, which calls for all of us to band together to give back to our communities," said IAM International President Robert Martinez Jr. "The Machinists take great pride, individually and collectively, in spearheading the betterment of our neighbors."
IAM members also joined civil and labor rights activists and community members for the 2023 MLK Holiday DC Annual Peace Walk & Parade in South East Washington, DC. This year's theme was "Recapture The Dream Lift Every Voice: 'Till Victory is Won!
WATCH: MLK Holiday DC Annual Peace Walk & Parade