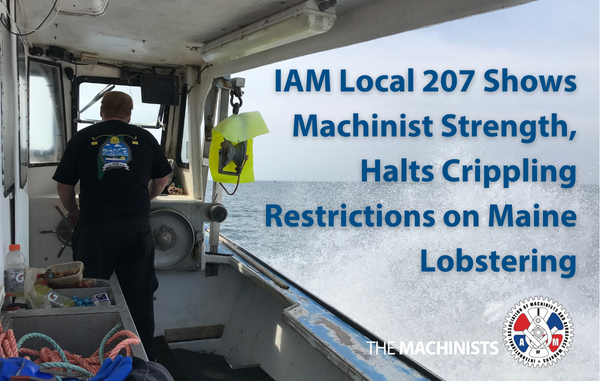 The Maine Lobstering Union (IAM Local 207) and the IAM Political and Legislative Department have won a provision that delays instituting regulations that would have destroyed Maine's lobster industry. With the assistance of the Maine Congressional Delegation, Congress passed an omnibus appropriations bill that includes this provision.
The IAM and its allies have long shown that lobstering practices in the Gulf of Maine are not harming right whales and that proposed regulations unfairly target the Maine lobstering industry.
"IAM Local 207 members and the entire Maine lobstering industry have shown again that when we stand together, we win critical victories for our state, community and livelihoods," said IAM Eastern Territory General Vice President David Sullivan. "We're so thankful for the IAM Political and Legislative Department—specifically Assistant Director Loren Almeroth and Local 207 Political Director Virginia Olson, for their diligence in this effort—the Maine congressional delegation and all of our allies in this fight."
The provision protects the lobster industry by delaying NMFS's newly recommended regulations for six years, until enough data is collected to determine what the appropriate regulations should be for the Gulf of Maine and if the existing regulations prove sufficient.
"Maine's lobstermen and women have long demonstrated their commitment to maintaining and protecting a sustainable fishery in the Gulf of Maine," said the Maine delegation. "They have invested in countless precautionary measures to protect right whales, including removing more than 30,000 miles of line from the water and switching to weaker rope to prevent whales from being entangled. And the fact is— there has never been a right whale death attributed to Maine lobster gear. We know the right whale population can be protected along with a thriving fishery because Maine lobstermen are already doing it."
In October, IAM Local 207 called on the Biden Administration to protect Maine's lobster fishery being threatened by the proposed regulations. The Maine delegation also sent letters to President Biden, urging him to take action to save thousands of jobs.
"It bears repeating that Maine's lobster industry is an economic engine for the state, generating approximately $1.4 billion annually and supporting the livelihoods of 4,500 lobstermen and thousands of Mainers employed through lobster dealers and seafood processors, vessel and trap manufacturers, restaurants, and other coastal businesses," reads U.S. Rep. Jared Golden's letter to the president.