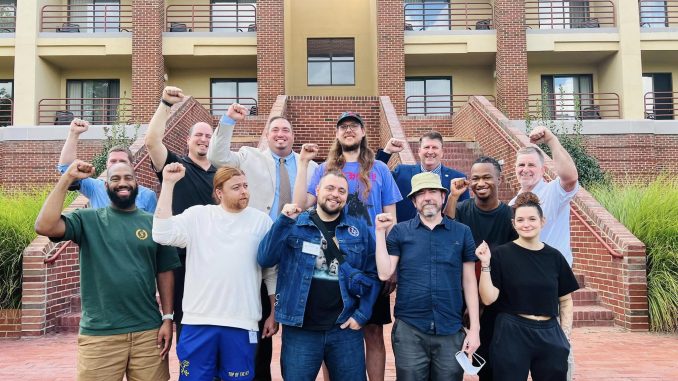 IAM CORE negotiating committee members from the newly organized Apple store in Towson, MD, have set dates for formal negotiations with Apple management. Formal negotiations will kick off on Wednesday, Jan. 11, 2023, and continue on Jan. 12, Jan. 31, Feb. 1, and Feb. 2.
The members have been preparing for formal negotiations and have undergone intense training on various topics.Towson Apple workers voted to join the International Association of Machinists and Aerospace Workers (IAM) in June, and the committee has been diligent in ensuring every employee of the store's voice is represented through the IAM CORE negotiating committee.
READ: Apple will begin negotiations with union workers at Towson store Baltimore Sun
Both the IAM and Apple agreed to set collective bargaining negotiation dates that would not impact this year's busy shopping season.
"Our IAM CORE negotiating team has worked on sitting across the table from the biggest company in the world," said IAM Eastern Territory General Vice President David Sullivan."The goal of our members is to get a first contract that allows them to work together with Apple and its management as equals in a spirit of cooperation and collaboration. I recognize Apple CEO Tim Cook and his team for respecting this process and agreeing to these negotiation dates."
The International Association of Machinists and Aerospace Workers (IAM) is one of North America's largest and most diverse industrial trade unions, representing approximately 600,000 active and retired members in the aerospace, defense, airlines, railroad, transit, healthcare, automotive, and other industries.