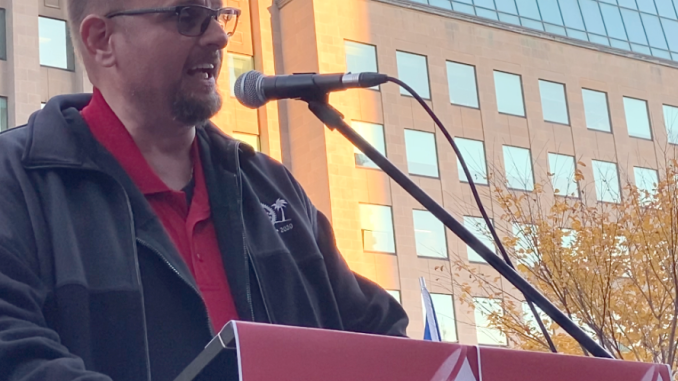 I was proud to be at the emergency rally organized by the Ontario Federation of Labour in support of Ontario's 55,000 education workers, The demonstration is in response to the "Keeping Students in Schools Act," which is being debated at the Ontario legislature at Queen's Park.
The Bill, introduced on Monday, would prevent a planned strike by the Ontario education workers represented by the Canadian Union of Public Employees (CUPE), and includes custodians, librarians, early childhood educators, education assistants, and administrative staff.
SEE THE VIDEO
It would also impose a four-year contract on education workers that includes a 2.5 per cent increase in salary for those who make less than $43,000 annually, and a 1.5 per cent increase for all other employees. To prevent CUPE from challenging the bill, the government invoked the Notwithstanding Clause.
This is clearly unjust and we, in the private sector, must rise to oppose against this abuse of power. This is a frontal assault on all workers, not only in Ontario, but across the country.
For those who may believe this is not their fight, I have news for you this is only the beginning and this movie is coming soon to a theatre near you – unless we stand and fight!
The government is using the Notwithstanding Clause to undermine the fundamental right to free and fair collective bargaining. Other provinces are watching closely to see the resolve of workers. We simply cannot afford to sit idly by. We must be there and provide support in any way we can.
The IAM is steadfastly in support of the CUPE workers. We must support them because if we don't, the Ontario government – and those across Canada – will come for all workers and the rights we've won for more than 150 years.
An attack on one is an attack on all of us! Solidarity Forever!!!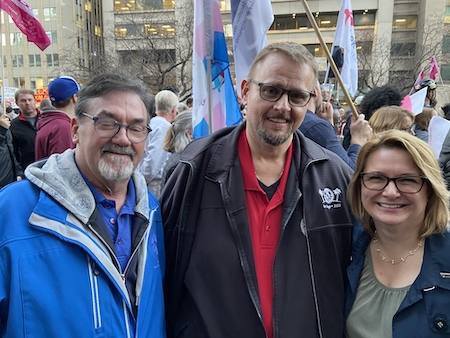 Gord Falconer, David Chartrand et Bea Bruske
Dave Chartrand avec Fred Hahn, Président de SCFP Ontario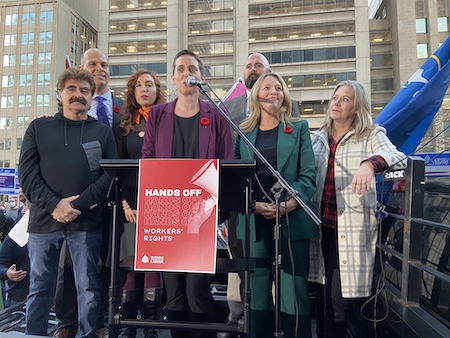 Les membres du Groupe parlementaire du NPD