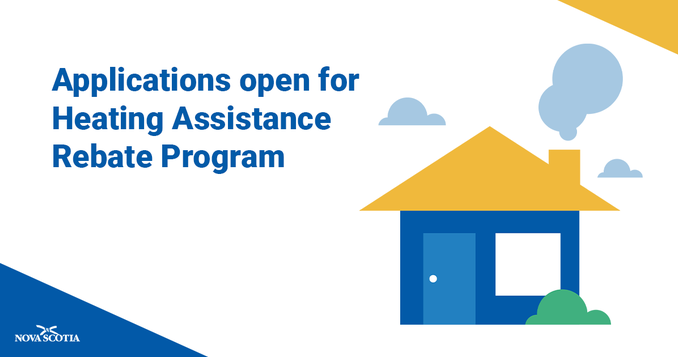 reposted from Service Nova Scotia and Internal Services
October 17, 2022 – 11:26 AM
Help with home heating costs is now available for Nova Scotians living on low incomes. Applications for the Heating Assistance Rebate Program (HARP) open today, October 17, for the 2022-23 heating season.
The annual program provides a rebate of up to $200 to eligible low-income Nova Scotians who pay for their own heat.
"We know that heating costs can be a financial strain for Nova Scotians, especially those with a low income," said Colton LeBlanc, Minister of Service Nova Scotia and Internal Services. "The Heating Assistance Rebate Program is once again here to help with home heating costs. We would encourage all eligible Nova Scotians to take advantage of the program and apply."
The income threshold to qualify for the program is $29,000 for single-income households and $44,000 for family-income households.
HARP runs through March 31, 2023.
People can apply online at: http://www.novascotia.ca/heatinghelp . Application forms are also available at Access Nova Scotia, Community Services and MLA offices.
Quick Facts:
on average, HARP provides more than 45,000 eligible Nova Scotians with a rebate of up to $200 to help with home heating costs
applicants who received the rebate in 2021-22 will be reminded to apply for this year's rebate via text, email or mail
in recent years, improvements like the addition of direct deposit, expansion of eligibility criteria, and ability to opt in through the Property Tax Rebate for Seniors have resulted in more people applying and receiving their rebate faster
Additional Resources:
Property tax rebate program for low-income seniors: https://beta.novascotia.ca/apply-property-tax-rebate-property-tax-rebate-seniors
HEAT Fund for low-income Nova Scotians in emergency need of heating assistance: https://salvationarmy.ca/maritime/home/programs/heat/
Seniors Care Grant: https://beta.novascotia.ca/apply-help-household-costs-seniors-care-grant
More information on other Nova Scotia home energy programs: https://energyassist.ca/