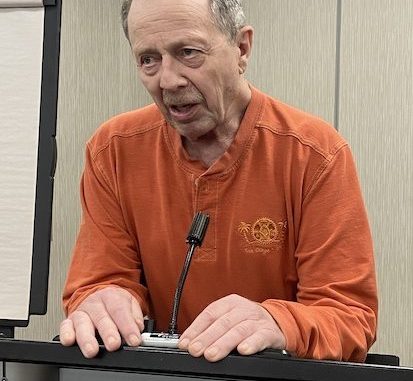 SEE PHOTOS OF THE MCM 2022 IN MONCTON, N.B.
The Maritime Machinists' Council (MCM) held its first Conference in more than two years and, by all accounts, it was a huge success. The event, held every two years, was postponed from its scheduled 2021 date. The theme of the conference was Combating Racism in the Workplace.
Paul Gaudet, President of the MCM opened the event and welcomed all to Moncton, the city frequently chosen to host the MCM conference as it lies in the centre of the Maritime provinces. Gaudet has been involved with the MCM for many years.
President Daniel Légère, President of the New Brunswick Federation of Labour (NBFL) addressed delegates and guests and gave an overview of the activities of the NBFL. He made special mention of Dona Boudreau (LL2418) and Serge Landry (LL3111) and thanked them for their help over the past few years. He also outlined some of the difficulties of trying to advance workers' rights with a Conservative government in power in New Brunswick, but vowed to continue the work with the help of IAM members.
Serge Landry, staff at the Canadian Labour Congress (CLC), brought greetings from Bea Bruske, President of the CLC. Landry also talked of the difficulty of working for workers during a pandemic. He assured attendees that good jobs and pharmacare are still top priorities for the CLC and committed again that nursing homes would be brought into the public sphere and out of for-profit hands.
Canadian General Vice-President (GVP) Dave Chartrand made a point of mentioning that he loves the Atlantic provinces, as he has been an avid visitor to the region. Chartrand, still in his first year as GVP, again stressed the need to continually speak to members and make sure we stay in touch with what they want and need. Chartrand further encouraged members to have difficult conversations as we chart our course for the future.
Chris Wagoner, long-time Director of the Winpisinger Education and Technology Centre, and Rick Arsenault, Grand Lodge Representative for the Atlantic Region, were both recognised recognised and thanked by Gaudet and the MCM. Arsenault retired on 01 January, 2022, while Wagoner will retire as of 01 July, 2022.
Wagoner and Frank Saptel addressed the theme of Combating Racism in the Workplace with some lively discussion and great ideas being put forward by attendees. Matt Barnable, current GLR for the Atlantic Region spoke about organising and encouraged all to think about non-traditional sectors in the Maritimes where the IAM could organise and represent those still without a union.
After Gaudet thanked attendees and brought the conference to an end, a new Executive Board was elected to plot the course of the IAM in the Maritimes. We all look forward to the new energy and new paths.
Written by Frank Saptel, May 31, 2022. Reposted from https://www.iamaw.ca/mcm-pulls-off-successful-post-pandemic-conference/